ADVERTISING - PROMOTION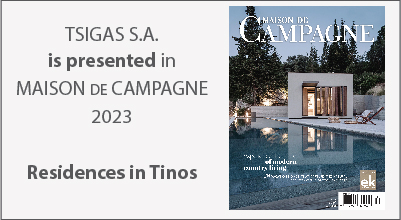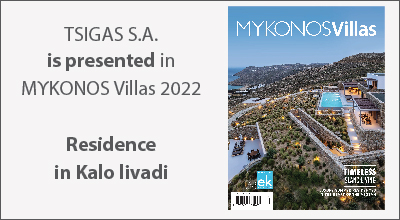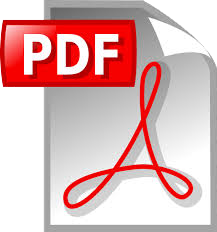 OUR PARTICIPATION AS A SPONSOR IN THE EVENT "MODERN APPLICATIONS IN ARCHITECTURE AND DESIGN AT THE BENAKI MUSEUM", 30/5/2022

Public participation and interest was great in the Material Matters Vol. 3 event organized by ek. The company TSIGAS SA was a Sponsor of the Event. It communicated with all visitors, capturing their interest on the new innovative products and technologies, related to the Wooden Frame.
Thank you for visiting our booth.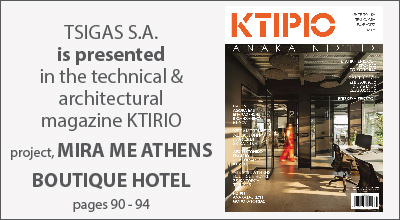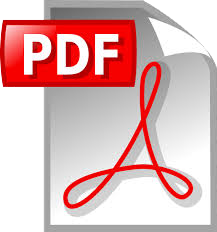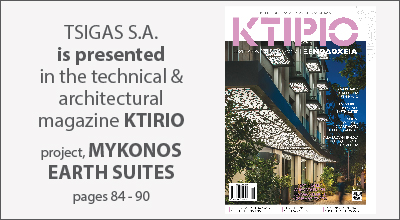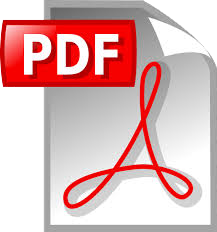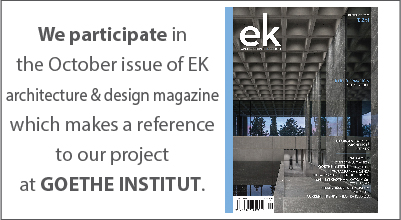 TSIGAS Company constructed and installed wooden frames with glazing panels in the composite entrance facade of the new building of GOETHE INSTITUT. See the tribute in the following pdf file: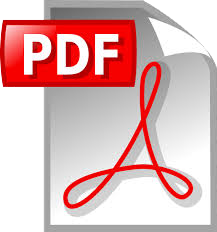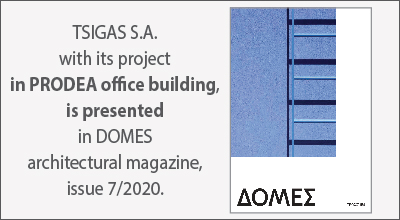 TSIGAS Company, constructed and installed the wooden frames of the facade of the listed building for the offices of PRODEA Investments, in Monastiraki at 9 Chrysospiliotissis Street. The radical renovation of the building was conducted by BALLIAN TECHNIKI S.A, according to the highest standards regarding professional and administrative facilities and meets the LEED and WELL Certifications. TSIGAS Company, with its advanced wooden frame systems, holds International Certifications, but also with an additional certification by the National Technical University of Athens from the Sound Technology Laboratory (Acoustic Research), school of architecture, meets the higher soundproofing specifications. (Laboratory test certification concerning weighted sound reduction index, Rw. Certificate code: TSIG W Rw 10-2019. See the tribute in the following pdf file: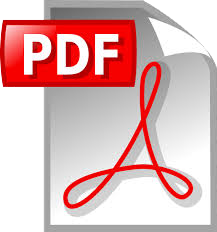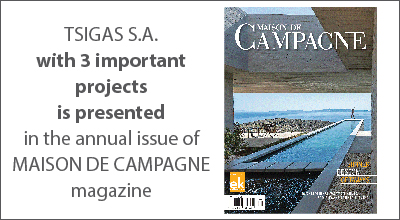 3 luxury holiday residences in Paros, Tinos and Tzia, equipped with TSIGAS Wooden Frames, harmonized with the unique local character of Aegean islands, always meeting the highest standards of endurance and ensuring the highest energy saving performance. See the tributes in the following pdf files:
TSIGAS S.A.

TSIGAS S.A. informs its customers and collaborators on a regular basis of new products and innovations introduced by the Company through articles and advertisements in specialised magazines and publications. The Company also publishes detailed catalogues which provide information on new products and on-going projects. Interested customers are encouraged to order the Company's catalogue.
The Company participates in most Trade Shows related to wood manufacturing within Greece and is in constant communication with prospective customers and construction companies.


OUR PARTICIPATION IN XENIA 2019 EXHIBITION
From 23 until 25 November 2019, our company participated in Xenia exhibition at Metropolitan Expo. Our presence was successful as we received the most positive feedback. We were given the valuable opportunity to meet many of you that we know as clients or partners, but also new entrepreneurs who surprised us with their interest especially in our innovative, certified products and services.
Thank you for visiting our booth.
STAVROS NIARCHOS FOUNDATION CULTURAL CENTER - 7/12/2018

TSIGAS SA participated as a sponsor of the event for the 40 years of ISV Architects' creative career.
It was a night dedicated to Babis Ioannou, Tasos Sotiropoulos and Alexander Van Gilder - the famous ISVs - who have completed 40 years of creating unique works which, through their architectural and construction quality, have contributed to shaping a new image of the city's environment, suburbs and the Greek countryside. The event took place at the Stavros Niarchos Foundation Cultural Center. More than six hundred people honored the event with their presence and interest.
TSIGAS SA will always support any creative and quality initiative developed at our venue.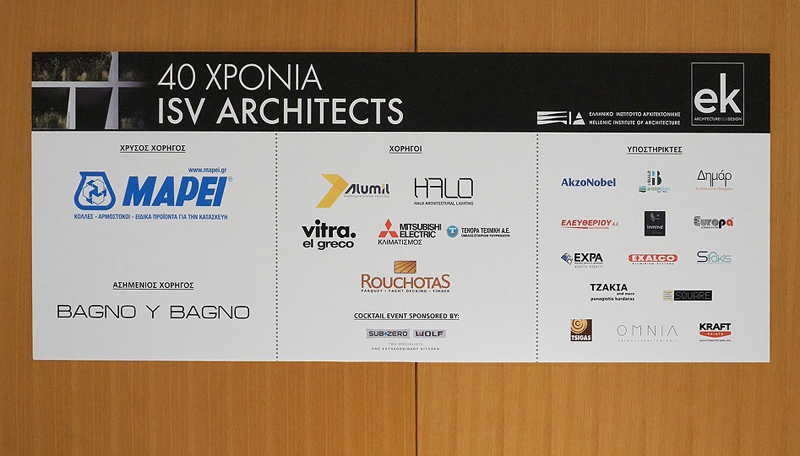 AIM

• Promotion of Wooden Frames "TSIGAS" (New International Standards and Technology) in New Markets.
• Promotion of Wooden Frames "TSIGAS" that are made of Aluminium or Bronze on the outside (New International Standards and Technology) in New Markets.
• Cooperation with Architects - Engineers.
• Cooperation with entrepreneurs to create New Exhibitions in order to display Wooden Frames TSIGAS SA

RESULTS

The assessment and the recognition of our products quality, in combination with the expertise, is our ultimate passport in New Markets. New partnerships with countries of Europe and Asia, is fact already.

Thank you all, the old and new partners and everyone who showed interest in our projects.

For any information we are available in our offices and our exhibitions in Karditsa and also in Athens.