ENERGY SAVING
TSIGAS S.A. innovates and ensures for you, unique certified products in the largest available dimensions and with the best thermal permeability coefficients.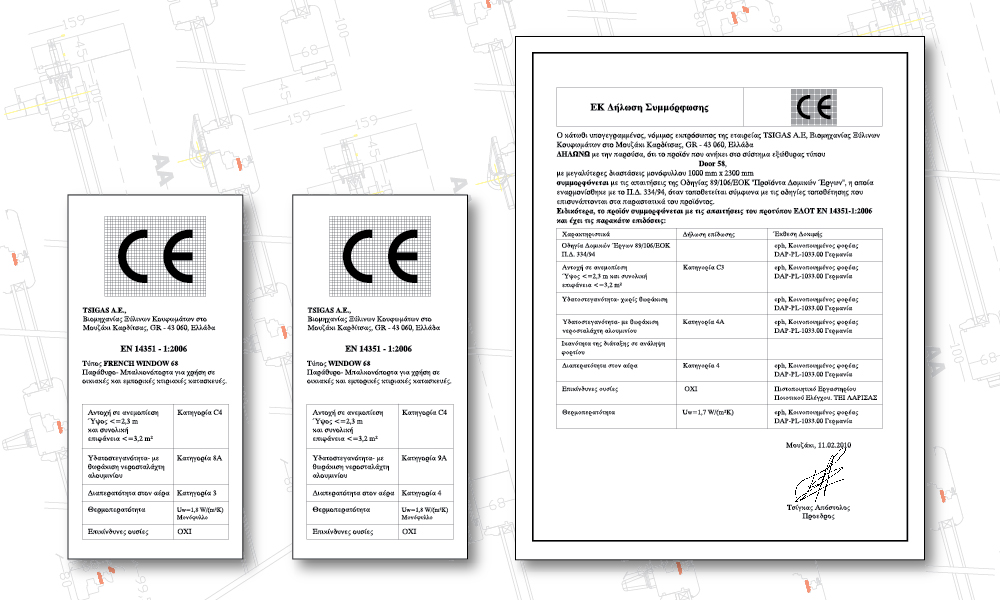 The main concern of TSIGAS SA is to adopt the international technological advancements, adapt them in the climatic characteristics of each area and create innovative solutions in Wooden Frames.
All Wooden Frames by TSIGAS SA comply with the strictest CE European Directives (Hellenic Standardization Organization EN 14351-1:2006) regarding their technical characteristics. Through frequent controls, the company obtains internationally acknowledged certifications by prestigious organizations, such as the Frames Technology Institutions ift Rosenheim, eph and MPA Dresden.


According to international tests, TSIGAS SA Wooden Frames exhibit the ideal durability indices to wind pressure and air permeability, water-tightness and thermal permeability and have a high energy-saving performance, achieving the lowest possible cost of maintenance.
The technologically advanced materials that are used in the manufacture of Glass Panes, such as the double-glazing glasses for thermal insulation or the multiple-glazing glasses with gap or filled with inert gas, the thick glass panes and the composite windowpanes with layers of glass and intermediate acoustic membranes, the rubbers and sealers of the joints, increase even more the thermal insulation and sound insulation properties, offering an optimum result.

TSIGAS SA manufactures Glass Panes with 25-36mm glaze and with the best thermal permeability coefficients covering the required specifications of all European countries.